Public Speaking Club
Good speaking is the most desirable and enduring skill today. It plays a major role in education, business and even in public arena. Public speaking is an oral presentation that is given live before an audience that can cover a wide variety of topics with the purpose to educate, influence or entertain. In the professional realm, developing good speaking can help many aspects of one's life. The way people respond to us and their interpretations to our messages greatly depend on our speech quality. It's not just about using clever words; instead, it's about establishing a connection with the audience on the basis of mutual trust and appreciation. It is a skill that can be learnt and acquired; which can be further honed with right guidance and consistent practice.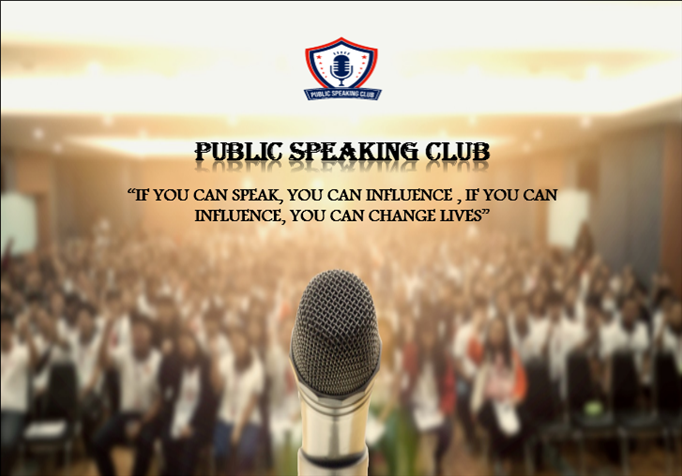 About Us
75% of world population struggle with this social phobia of public speaking called Glossophobia. Data depicts 89% people believe that effective communication is extremely important, but 8 out of 10 people rate their own communication skill as either average or poor. A well-structured activity plan will prime the students in the due course to become efficient professionals and to have the persona of refined speakers.
Vision
To shape students into confident speakers who can present themselves confidently in any given situation, showing remarkable fluency and ease of expression.
Mission
To provide right guidance and opportunity to students to face a conversation situation confidently and speak fluently to get benefitted professionally as well as personally. To equip them to rely on their own skills, memory and improvisation to exhibit impressive conversational skills without any external support and prepare them for relative job scenario.
Proposed Activities
Interactive workshops/seminars
Semi-formal situational conversations
Candid Presentation
Group Discussions
Online/Offline Mock Placement Drive
Debates
Turn A Coat
Mock Parliament
Connecting Dots
End Lines
Tell history
Two truth, one lie
FACULTY COMMITTEE MEMBERS
| | | | |
| --- | --- | --- | --- |
| S.NO | NAME | DEPARTMENT | POST |
| 1. | Dr. Anjana Sekhar | Humanities | Convener |
| 2. | Dr. Swarnita Sharma | Humanities | Advisor |
| 3. | Mrs. Swapna Sarkar | Humanities | Co-ordinator |
| 4. | Mr. Vaibhav Upadhyay | Mathematics | Member |
| 5. | Mr. Rajesh Patel | Mathematics | Member |
STUDENT COMMITTEE MEMBERS
Mr. SPARSH SHARMA
(Computer Science 4th year)
ADVISOR
Mr. YOGESH RAO MULE
(MCA 2nd year)
CONVENER
Ms. NEHA REDDY
(MCA 2nd year)
VICE PRESIDENT
Mr. ARINI SINGH
(Civil 2nd year)
SECRETARY
Mr. RITIK KURRE
(Civil 3rd year)
TREASURER
Ms. SAKSHI PREMCHANDANI
(Computer Science 3rd year)
TREASURER
Mr. HRITIK MUKHERJEE
(MBA 2nd year)
I/c SOCIAL MEDIA
Ms. SAKSHI DESHMUKH
(Civil 3rd year)
I/c SOCIAL MEDIA
Ms. SANSKRITI GAURAHA
(EEE 3rd year)
CONTENT LEAD