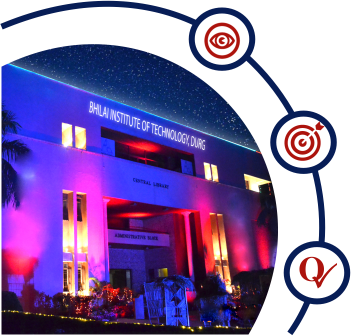 Vision
Institute aspires to be recognized for Excellence in Education, Research & Innovation and create value based globally competent professionals.
Mission
Putting in well directed and honest efforts to achieve the excellence through:
Outcomes Based Education
To develop and pursue dynamic and flexible outcome based curriculum with the right mix of professional, ethical, societal and environmental concerns.
Infrastructure & Intellectual Assets
By continuous upgradation of infrastructure, pedagogical tools and knowledge base of our manpower.
Research & Innovation
To create an atmosphere of intellectual excitement, research, innovation and instilling in the ability to be lifelong learner.
Holistic Development
To promote co-curricular, extra-curricular and other value-added activities to ensure holistic development of students for employability, entrepreneurship, higher education and to serve the society.
Quality Policy
To provide quality technical education to improve the knowledge of the students. This is achieved through faculty up gradation, giving placement assistance, providing opportunities for extracurricular development and updates the students with latest technical developments in the related fields.